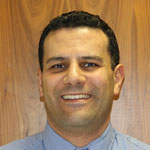 Dr. Os Guirguis graduated from the University of London's Guy's, King's and St Thomas' School of Medicine in 2000 with an MB BS degree. He then went on to pursue a career in Emergency Medicine and worked up to Registrar level.
Os also has a Diploma in Sports & Exercise Medicine. He studied under the supervision of The England rugby and football team doctors, which was a great experience and afforded him the opportunity to see a wide variety of sports related injuries.
In 2007, Os then transitioned from Emergency Medicine to General Practice. He trained as a GP in Hampshire, England (Member of the Royal College of GP's) and graduated to the position of GP partner in this practice.
In 2011, Os took an opportunity to travel and work in Perth, Western Australia. He worked there for 2 years further developing his skills as a GP in both urban and rural settings. He gained a Fellowship of the Royal Australian College of GP's and went on to train GP registrars at this practice.
Os has recently moved to his wife's hometown, Cork. Most of his free time is taken up with his two young daughters. In any spare time, he also enjoys travel, many sports, and the theatre/cinema.
Os has a broad knowledge of all aspects of medicine and enjoys the variety that comes with General Practice. His particular specialties include sports injuries, general orthopaedic problems where he undertakes joint injections including for carpal tunnel syndrome, Paediatric care and Men's Health. Following his time in Australia, Os is very proficient in the removal of skin lesions including skin cancers. Os is also trained in the insertion and removal of Implanon devices.
He is available for 8 sessions per week on average.