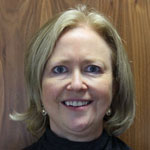 Dr. Rose Curtin graduated from UCC in 1986 with a MB BCh BAO degree. Having completed her hospital clinical experience in Ireland and England, she obtained her Diplomas in Child Health in '89 and Obstetrics in '90 . She completed her GP Vocational training in Kent in England in '92 and obtained her Membership of the Royal College of General Practitioners that year and subsequently worked as a GP in East London.
On returning to Ireland she worked in General practice in Bandon Co. Cork and then joined Elmwood Medical Practice in '98. She obtained an associated Membership of the Irish College of General Practitioners and is on the Specialist Register of General Practitioners in Ireland.
She has a special interest in Care of the Elderly, Children's Health, Women's health, Antenatal Care and Family Planning and holds an Advanced Certificate in fitting the Implanon contraceptive device.
She has experience working in the STI clinic in Cork's South Infirmary/Victoria Hospital and has an interest in the diagnosis and treatment of STIs in General Practice in Elmwood.